Scattery Island Tours
Yours to Explore
Framed within the calm waters of the Shannon Estuary, Scattery Island is truly a unique visitor experience on the Wild Atlantic Way. Visitors will be amazed at the wealth of historic sites, including five Churches, a Cathedral, a magnificent Round Tower, Napoleonic War Artillery Battery, and a working lighthouse. Today the island is completely uninhabited, and visitors can explore its ancient historic sites and experience its unspoilt natural beauty in peace and tranquillity.
Ranked on Trip Advisor as one of the Top Things to do in Co. Clare, Scattery Island is a safe outdoor experience and perfect for children to explore. Pack a picnic and the swimsuits and enjoy a great family day out on Scattery Island.
Daily service operates during the summer months and departs from Kilrush Marina – Visit www.scatteryislandtours.com for more information. or phone (085) 2505512.
As our resident, you will receive 10% off your Scattery Island Tour.
West Coast RIB Adventures
The best fun you will have on the water..
Pack your sense of adventure and get ready to explore the stunning coastal scenery of the majestic Shannon Estuary onboard our adventure RIB rides. Our tours include a 2.5 hour Eco Safari Tour or a 1.5 hour action packed river adventure, where we show you the sights from the comfort of our 12 passenger RIB.
The Shannon Estuary is an area of outstanding natural beauty, with its island and cliff coasts, wildlife, and dolphins. Feel the fresh air on your face and the freedom of the great outdoors, explore hidden coves and sea stacks and soak up the sights as we get up close and personal with this beautiful stretch of the Shannon River.
This designated Marine Area of Conservation features a rich diversity of wildlife habitats and is home to Ireland's only resident group of bottlenose dolphins, one of just six in Europe. Enjoy panoramic views of the river's islands and coastal features, with its Lighthouses, Artillery batteries and the imposing round tower on Scattery Island.
Book online at www.scatteryislandtours.com
As our resident, you will receive 10% off your West Coast RIB Adventure Tour.
Book Your Getaway
When planning your tour to Scattery Island, why not stay with us here at the Shannon Springs Hotel and make a night of it.
Book Now
Why Stay With Us
More Options Are Available...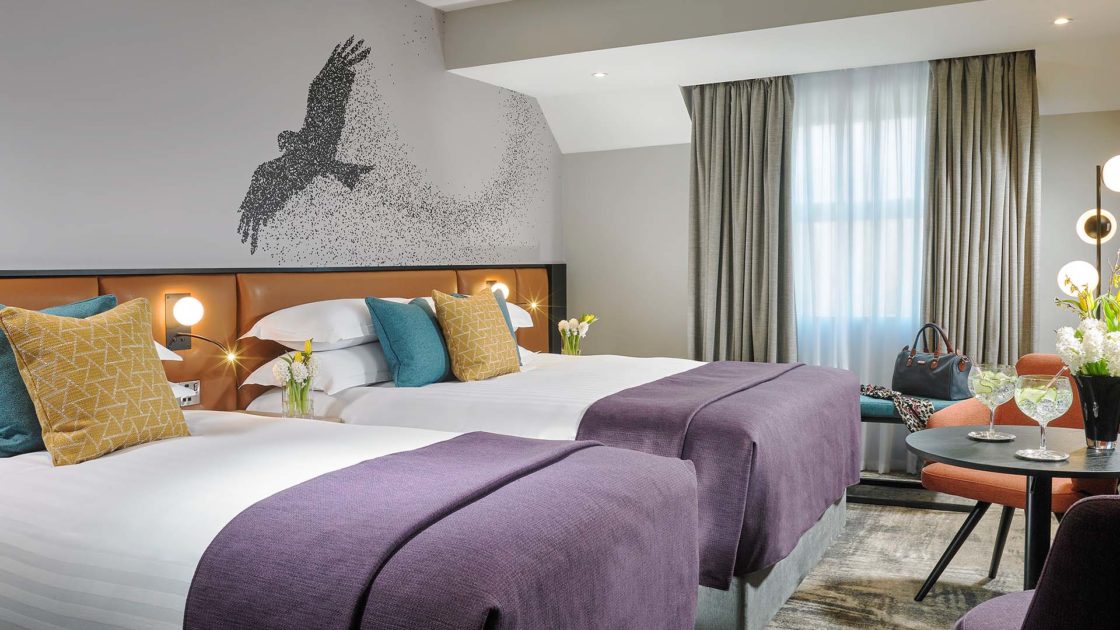 Our Guestrooms
The Shannon Springs Hotel boasts 54 tastefully designed en-suite bedrooms with all modern amenities and your comfort in mind, a great choice for both business and pleasure.
Read More
Award-Winning Dining
After a day of exploring, sit back and relax over food, drink and service in our Award-Winning Gastro Pub.
Read More
Explore All Scattery Island has to offer
The perfect trip with family & friends